Note: You must update your GameTraka mobile application for any units to display live data.
1. Register each device you wish to use in a live capacity to your GameTraka account via the SPT Bridge (link). This method is recommended.
or
1a. Register devices in device manager via the GameTraka web browser (link).
2. Once your units are switched on, being worn by athletes and whilst session is in progress i.e. the device is connected to the satellites, launch the GameTraka mobile app (& login to your GameTraka account)
3. Select the team which you wish to display live data for
4. Press 'Connect' (located on the bottom in the middle of your screen).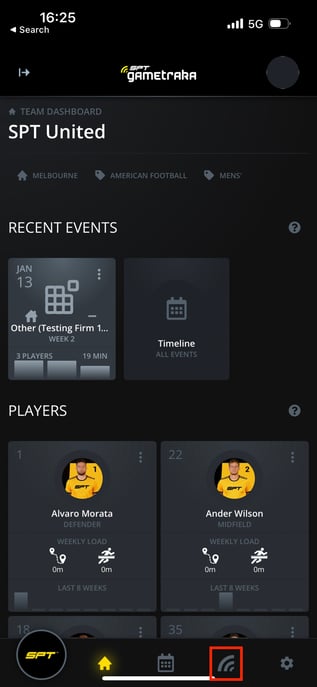 5. Devices that are in range (please note that a 10m Bluetooth range applies) will automatically update live data to your device.
To learn more about each metric you can view via Live Data Mode click here.
Note:
If a unit leaves Bluetooth range or turns off, after 10 seconds it will appear in the second list as 'Disconnected' along with the duration since it was last connected.
If a disconnected unit returns to Bluetooth range (10 meters), that unit will then be visible in the top list with all the live metrics updated, again reflecting real time data.