Custom Date Selection
This page shows how to customize date.
The left hand filter side bar houses a custom date selection tool for Silver, Gold and Platinum subscribers.
The custom date selection tool will allow you to set the most recent date to reflect the last date displayed on your timeline.
In the example below, the latest date is set to June 6th 2020, and as such the latest event on the timeline (and all displayed data) reflects this.
You can then view 3, 5 or 12 weeks worth of data prior to the custom date that you have set.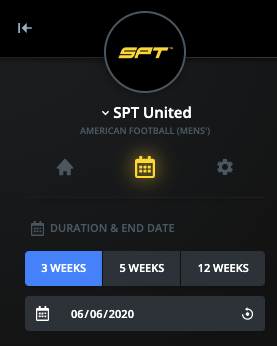 The custom date selection tool is useful when trying to view data that is older than 12 weeks. You can also anchor it to a specific moment in time (eg. the start of the in-season period).