Printing & Exporting Data
CSV Export Function
The Side Bar Controls house a "Export Data (CSV)" button for Gold and Platinum level subscribers.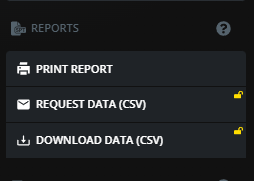 Request Data (CSV) - Email will be sent with the CSV export
Download Data (CSV) - CSV will download to your browser
Users can export CSV files directly from GameTraka for use in external databases in software such as Microsoft Excel.
The CSV export contains ALL GPS, IMU & Heart Rate metrics captured by your SPT device, an example is attached.
Note: Exports will include any segments that you create for a specific event. Be sure to create segments before you perform a CSV export as you will now be able to analyze your performance and create a database with specific segments/drills.
Click here to learn how to create segments for events.